Welcome to my TITANIC page!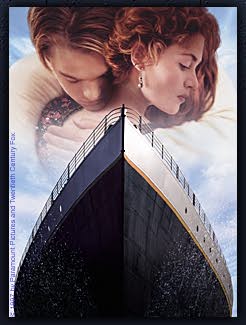 forever this way...
Collide with destiny.
Nothing on Earth could come between them.
---
The greatest voyage in movie history!
Hello, TITANIC fans!
This page is dedicated to the film, TITANC. I know, I know, it's too late to build a page like this. But I had to do it. Because I love this film very much! TITANIC is one of the greatest films I've ever seen! And it was best of 1997. This page will be updated irregularly, so please come back soon!
---
Menu
---
News!
Can you believe this?! 11 Oscars!!!
Best Picture
Best Director James Cameron
Best Cinematography / Best Film Editing
Best Art Direction / Best Costume Design
Best Original Dramatic Score James Horner / Best Original Song "My Heart Will Go On"
Best Visual Effects / Best Sound / Best Sound Effects Editing
CONGRATULATIONS!!!
---
Won 4 Golden Globe Awards!
Best Motion Picture(Drama)
Best Director James Cameron
Best Original Score James Horner
Best Original Song
---

---
Don't forget to sign my guestbook!
---
---
---
I'm Goh and I believe in the Ship of Dreams.

---
---
---
Best viewed with INTERNET EXPLORER 4.0x
All images Copyright (C)1997 by PARAMOUNT PICTURES AND TWENTIETH CENTURY FOX.
This page is for fan enjoyment only. No infringement is intended.
This page was created and is maintained by Goh Maruyama, from Japan.