The Cast of

---

KATE WINSLET as Rose DeWitt Bukater
She is the best of the cast!!! Both acting and her role,"Rose".

LEONARD DiCAPRIO as Jack Dawson
I've been thinking he is just an idol or beautiful doll. I must apologize for that. He is a real actor. The best of young actors, I think. He is GREAT!!!

BILLY ZANE as Cal Hockley
His role is really typical "movie bad guy". And he is essential character for this film.

KATHY BATES as Molly Brown
She brought some comical scenes. And she is good actress.

GLORIA STUART as Rose Colbert
She is the most important person in the film. Without her, this film would have failed.
BILL PAXTON as Brock Levett
He is my favorite actor. He is GOOD!!!

SUZY AMIS as Lizy
She is my favorite actress. Because she featured in some of my favorite films like "Blown Away" and "The Usual Suspects".
---
FRANCES FISHER as Ruth DeWitt Bukater FILMOGRAPHY
BERNARD HILL as Captain E.J. Smith FILMOGRAPHY
JONATHAN HYDE as J. Bruce Ismay FILMOGRAPHY
DAVID WARNER as Spicer Lovejoy FILMOGRAPHY
VICTOR GARBER as Thomas Andrews FILMOGRAPHY
DANNY NUCCI as Fabrizio De Rossi FILMOGRAPHY
---
Filmmakers of

---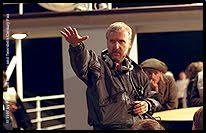 JAMES CAMERON (Director/Writer/Producer/Editor/Actor???)
He is great director. He never fails!!!
JAMES HORNER (Composer)
He is one of the best composers in Hollywood today.
---
Producers
RAE SANCHINI (executive)
AL GIDDINGS (Co-producer)
GRANT HILL (Co-producer)
SHARON MANN (Co-producer)
PAMELA EASLEY (associate)
Dierctor of Photography
Film Editors
Production Designer
Costume Designer
Special Visual Effects
---